Details
IPD INTAKE PLENUM
FOR THE 2nd GENERATION 991 TURBO
A NECCESARY PART OF A STAGE 4 OR STAGE 5 PACKAGE
WHAT IS THIS PART FOR?
Most shops are going to sell you this part because wer'e in business to make money so it's an easy part to sell everybody. We put this on our shop builds because those cars are usually modified beyond just a tune and exhaust. When you are modifying your car, you have to strengthen or modify different parts of the car as you raise the power. If I only have a tune and a cat bypass on my car, I should probably consider getting something else before I purchase this. When you get to the level of having intercoolers and turbo upgrades this part becomes neccesary and does the job perfectly. It replaces a small plastic pipe that connects the throttle body with the intake manifolds. It replaces the little plastic pipe with a really beautifully cast piece of aluminum that flows better and is A LOT STRONGER than the pipe it replaces.
---
WHEN SHOULD I BUY THIS PART?
Buy this part when you are really plan on flowing some air. I would do it if you are planning to do anything to your car upwards of intercoolers. If you're doing turbos, you definitely need to have this installed. The y-pipe from IPD is also needed by then. These parts also make it possible to run meth injection very easily for those customers that are looking to maximize thir cars power and torque.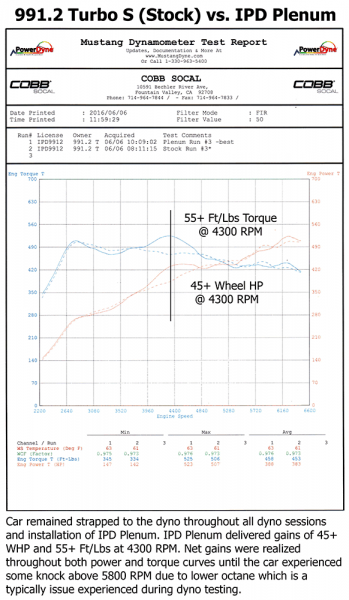 ---
HOW HARD IS IT TO INSTALL?
It's not that difficult if you are very comfortable and familiar with working on your car. It's a little more involved than doing your exhaust and your intercoolers but if you successfully installed those parts you should have no problem with the plenum install. A shop that works on Porsches can handle this job quite easily. It is a straightforward install that does not require any ECU reprogramming. The end result is awesome because it does it's job, it does it well and it never creates issues. Always take your car to a shop that deals with Porsches or do it yourself and take your time.
---
HERE IS A PICTURE OF IT ON THE MOTOR OUT OF THE CAR SO YOU GET AN IDEA WHERE THIS GOES
Additional Information
| | |
| --- | --- |
| Free Shipping | Yes |
| Manufacturer | IPD |
NEED HELP OR HAVE QUESTIONS?
Contact our knowledgeable stales staff by telephone at 1 (310) 533-8900.
Support is available Monday-Friday Pacific Time 9:00 am - 5:00 pm